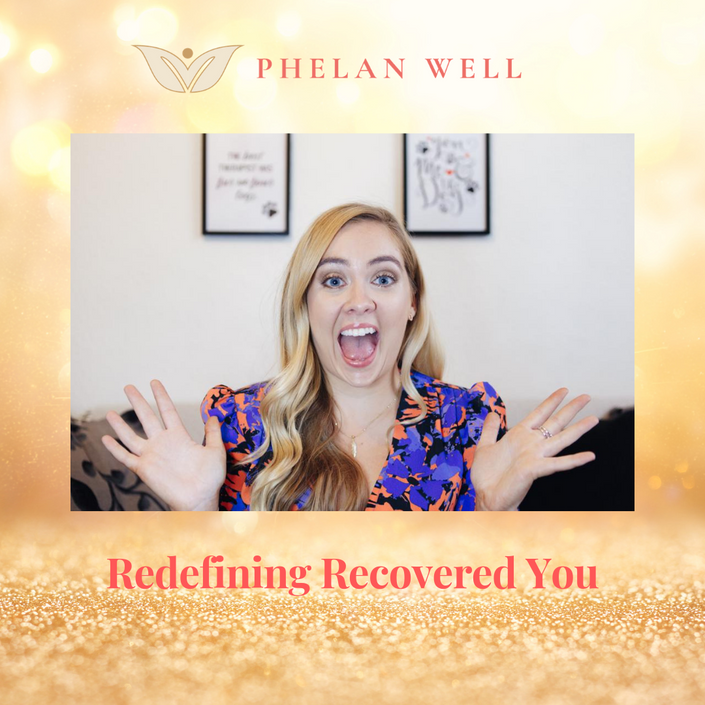 After so many years of working 1-1 with clients and people just like you I have created a 3 month online programme "Redefining Recovered you" this is your online handbook & course to help you get your life back after years of battling with food and your body & live the life that you deserve!
This is perfect for you if:
- You have come a long way in recovery from an ED or disordered relationship with food & poor body image but still need support, accountability and evidence-based tools to find FULL food and body freedom so you can live an amazing life.
- You have been a yo-yo dieter or have struggled with disordered eating and finally want to break free from this.
- Want a more affordable and accessible way of working with me.
For just £250 for 3 months you get 2 monthly workshops (one will be live with me!) weekly tasks and homework, unlimited resources, reading lists & bonuses with expert interviews as well as being welcomed into the "Redefining Recovered You" Phelan Well online FB private community where I will be organising events & meet ups as well as regular updates and advice! My 1-1 sessions in Harley Street are £120 for one session alone and so I am so delighted to be able to bring you a affordable source of support with me grounded in years of experience, professional training and ground-breaking breakthroughs with clients. (Payment plans are available)
Feel ready to live a full, enriching life, one where you want to feel excited and at peace with yourself, have the brain space to go for that dream career, create meaningful relationships and experiences and spend your life feeling fulfilled and happy and content.
Sign ups for this course will end on the 27th of September 2019 will a commencement start date of the 30th of September 2019.
I'm looking forward to being part of your journey
Laura x

Course Curriculum
Module 1 - Mind
Available in days
days after you enroll
Module 2 - Food
Available in days
days after you enroll
Module 3 - Body
Available in days
days after you enroll
Frequently Asked Questions
When does the course start and finish?
Redefining Recovered You will run for 3 months with each month focusing on a different module covering Mind, Food & Body. The Mind module will be live on the 30th of September, this will be the start of the course.
How long do I have access to the course?
You will have 3 month access to this course. As part of your package you will receive access to Laura's private community Facebook group, this will be accessible indefinitely.
Are refunds available?
Refunds are only available before the commencement date of the course, in this case is the 30th of September 2019
Can I keep the course resources?
The worksheets & downloadable content will be yours to keep
What if I am not available for the live workshop?
This will be emailed to you
Can I ask Laura questions directly?
Please email your questions to Laura and she will address as many of them as possible during her live workshops
Can I share the worksheets with my friends?
No, only people who are enrolled on the course should use these sheets. They are property of Phelan Well and you may be removed from the course if you share these.
How can I contact Laura?
If you wish to find out more about working with Laura on a 1-1 basis or have a question you would like to send through please email these to:
[email protected]
Is the Facebook group only open during the course?
No, you are able to stay within the Facebook group for life. Please adhere to the rules & regulations and respect others journeys